China WANWEI Group Co., Ltd. is a large-scale enterprise under the jurisdiction of the Anhui Provincial State-owned Assets Supervision and Administration Commission. The predecessor was the Vinylon Factory in Anhui Province. It was founded in 1969 and is a key project for investment and construction during the National "Four-Five" period. The group has six subsidiaries, and the core subsidiary, Anhui Wanwei High-tech Materials Co., Ltd., was listed on the Shanghai Stock Exchange in May 1997 (the stock name is Wanwei Gaoxin, code "600063").
China Wanwei Group is an important joint manufacturing enterprise of chemical, chemical fiber and new materials in Anhui Province. Its total assets exceed 10 billion yuan, its annual sales income is more than 6 billion yuan, and its import and export volume exceeds 100 million US dollars. The group has an annual output of 350,000 tons of polyvinyl alcohol (PVA), 600,000 tons of VAC, 100,000 tons of refined methyl acetate, 500,000 tons of calcium carbide, 40,000 tons of high-strength high-mode PVA fiber, 15,000 tons of water-soluble fiber, 50,000 tons Acetic anhydride, 60,000 tons of polyester chips, 70,000 tons of VAE, 40,000 tons of redispersible rubber powder, 40,000 tons of PVB resin, 15,000 tons of PVB film, 5 million square meters of PVA optical film, 4 million tons of cement Material production capacity. Leading products PVA, high-strength and high-modulus PVA fiber rank first in the world and the world's forefront for many years. PVA optical film, PVB resin and diaphragm are at the forefront of industry technology, and have been included in the national key scientific and technological projects and the National Torch Program. The company has passed ISO9001 quality management system, ISO14001 environmental management system and OHSASI8001 occupational health and safety management system certification.
The Group has been rated as a national high-tech enterprise, an innovative enterprise in Anhui Province, and a key high-tech enterprise in the National Torch Program. The group has the first national-level enterprise technology center in the same industry in the country, Anhui Province Polyvinyl Alcohol Materials Engineering Technology Research Center, post-doctoral workstation.
شرکت گروه .WANWEI Ltd یک شرکت بزرگ کلاس اول در زمینه مواد شیمیایی است که تحت نظر کمیسیون نظارت بر دارایی های دولتی anhui اداره می شود. پیش از این با عنوان کارخانهanhui vinylon شناخته می شد و در سال 1969 تأسیس شد ، پروژه تاسیس کارخانه برنامه ای است که طی "برنامه چهارم وپنجم پنج ساله" ایالت سرمایه گذاری و ساخته شده است. این گروه دارای شش شرکت تابعه است. شرکت تابعه اصلی آن ، شرکت مواد فناوری آنهویی anhui ، LTD. ، در ماه مه 1997 در بورس اوراق بهادار شانگهای درج شده است.
گروه آنهویی شرکت مهم تولید مشترک مواد شیمیایی ، الیاف شیمیایی و مواد صنایع جدید در استان آنهویی است ، با دارایی های کل بیش از 10 میلیارد یوان ، درآمد فروش سالانه بیش از 6 میلیارد یوان، حجم واردات و صادرات بیش از 100 میلیون دلار گروه سالانه 350000 تن پلی وینیل الکل (PVA) ، VAC 600000 تن ، 100000 تن 40000 تن 500000 تن متیل استات ، کاربید کلسیم ، با استحکام بالا و فیبر PVA مدول بالا ، 15000 تن فیبر محلول در آب ، 50000 تن انیدرید استیک ، 60000 تن تراشه پلی استر ، 70000 تن VAE ، 40000 تن پودر پراکندگی قابل استفاده مجدد ، 40000 تن رزین PVB ، 15000 تن فیلم PVB ، 500 متر مربع فیلم نوری نوری PVA ، ظرفیت تولید 4 میلیون تن کلینکر سیمانی محصولات پیشرو PVA ، استحکام بالا و الیاف PVA مدول بالا ، رتبه های اول در چین و پیشتاز در جهان برای سالهای بسیاری است. فیلم نوری PVA ، رزین و دیافراگم PVB و سایر محصولات در راس فناوری این صنعت هستند ، این شرکت دارای سیستم مدیریت کیفیت ISO9001 ، سیستم مدیریت زیست محیطی ISO14001 و صدور گواهینامه سیستم مدیریت بهداشت و ایمنی حرفه ای OHSASI8001 است.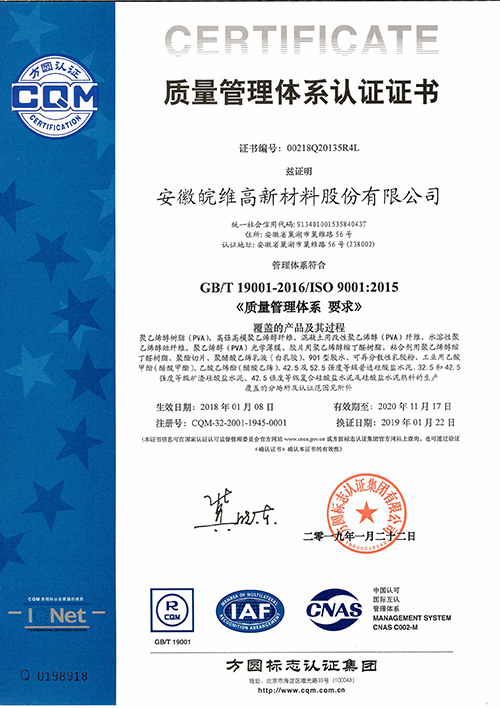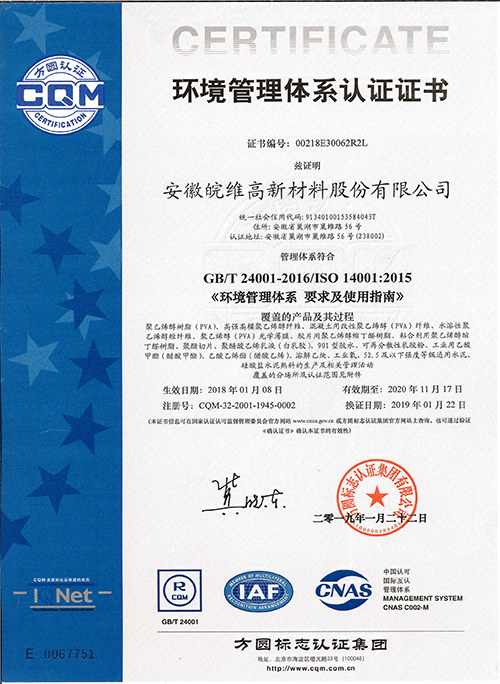 ---